Pastoral messages
---
---
Pumpkins and Light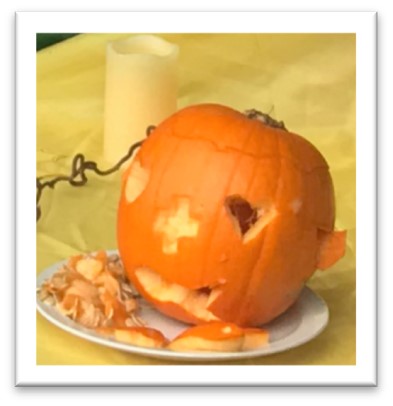 29/10/2020 – Heworth Methodist Church
Dear friends
Have you ever carved a pumpkin prayerfully? Me neither ….. …… at least not until I tried following a pumpkin prayer for the foyer window last week!
The eve of All Hallows, from which the word Hallowe'en is taken, is the day before All Hallows' Day. Also known as All Saints' Day, this falls on 1st November in the Christian calendar. In some Christian traditions, 2nd November is All Souls' Day – a day of prayer and remembrance for the souls of all of those who have died. Sadly, there are many people to remember this year. Individuals for whom family members and friends have not been able to attend their funeral service and so we pray
'Christ your light shall rise in the darkness - And your healing shall spring up like the dawn'. (from: An Office for Commendation)
A Pumpkin Prayer
Dear God,
As I carve my pumpkin, help me say this prayer:
Open my mind so I can learn about You;

(cut the top off)
Take away all my sins and forgive me for the wrong things I do.
(scoop out the inside)
Open my eyes so Your love I will see;
(make heart shaped eyes)
I'm so sorry for turning up my nose to all you've gven me.
(make cross shaped nose)
Open my ears so your word I will hear.
(make Bible shaped ears)
Open my mouth so I can tell others You're near
(make fish shaped mouth)
Let Your light shine in all I say and do!
(place candle inside)
In setting up the window, it was a delight to notice young children, on their ways home from school, stop and look in – one child turned back to take another look! Hopefully, over the week, they will take time to read the nearby Pumpkin Prayer and their responsible adults might notice other prayers and the texts too:
Jesus spoke to them, saying, "I am the light of the world. Whoever follows me will not walk in darkness, but will have the light of life." (John 8:12)
Alyson
---
Be Corona Safe : Keep the Faith
Our previous minister shared this Be Corona Safe : Keep the Faith message, written by James Martin, S.J. first published in America Magazine, the Jesuit review on March 13th 2020, which continues to be relevant in the current situation.
---